‹ BACK
Brachytherapy for Prostate Carcinoma
Carcinoma of the prostate is the most frequent type of cancer among male individuals over 50 years of age. Treatment varies according to the stage of development in which the disease is diagnosed. If not treated properly and in due time, carcinoma of the prostate shows a high mortality rate. However, when detected in an early stage of development, the possibility of cure becomes high.
Brachytherapy is a modern and valid therapy that consists of implanting radioactive iodine seeds in the prostate.
The prefix "brachy" derives from the Greek word brakhys, for short, brief or concise. Brachytherapy thus refers to the sort of radiation therapy given at a very short distance, well localized and precise. Confirming these particular abilities, iodine seeds are small metal fragments (of roughly 5 x 1mm) responsible for releasing Gamma radiation. The implantation of such seeds is performed so that the high-dose radiation they emit concentrates on the affected gland, preserving the prostate's neighboring tissues and organs.
The procedure may be preceded by either spinal or general anesthesia, and should last between 1 and 2 hours. In Brachytherapy, an endo-rectal ultrasound probe allows a real-time, clear picture of the prostate, and enables the determination of the number of needles to implant and the number of seeds to introduce in each needle. After the implantation of seeds, a catheter is kept in the gall bladder until hospital discharge, which occurs around 24 hours after the procedure, when the urinary function has been restored and the patient is nearly asymptomatic.
If you'd like to learn more about brachytherapy for prostate cancer, contact us via email, by calling +351 220 973 751, +351 211 379 718, +351 911 046 197, or by filling out our form. You can also contact us through our free call service to your right.
CONVENTIONAL TREATMENT OPTIONS
In the early 90s, surgery was the most effective method to deal with prostatic carcinoma. Along with high incidence rates of urinary incontinence and erectile dysfunction, surgery entailed (as still does up to this today) general anesthesia, prolonged hospital stays, bladder catheterization, and sometimes even blood transfusion.
External radiotherapy, in its turn, treats carcinoma along a varying number of daily sessions, with specific high potency emissions released from an energy source located outside of the patient's body, thus exposing cancer cells to significant doses of radiation and sparing neighboring tissues and organs from unneeded treatment.
Currently, surgery and external radiotherapy can be done separately or in conjunction with each other. Surgery now focuses on localized tumors not yet extended to the gland capsule.
If you'd like to learn more about oncology treatments, contact us via email, by calling +351 220 973 751, +351 211 379 718, +351 911 046 197, or by filling out our form. You can also contact us through our free call service to your right.
Clinical outcomes from Brachytherapy
Clinical studies undertaken in the last fifteen years show that, in early stages of prostate carcinoma, Brachytherapy with Iodine-125 seeds is a valid therapeutic option, that achieves results similar to those of radical prostatectomy (surgery) and results above those of conventional external radiotherapy.
Side effects from Brachytherapy are relatively infrequent: urinary incontinence appears in less than 5% of patients and erectile dysfunction in around 20% of those that submitted to the treatment. Post-implantation urinary acute symptomatology is possible, with painful, difficult and burning-like urination. In most cases, side effects are easily controlled with conventional and directed medical treatment.
Relating to Brachytherapy
It is a treatment well tolerated by patients
It is a minor procedure based on the transcutaneous implantation of radiation seeds
It doesn't involve the extraction of the prostate
The radiation dose is significantly higher and much more localized than in external radiotherapy
Although iodine seeds carry radioactivity, the majorty is absorbed by the prostate
It may be performed under spinal anesthesia
It is executed in only one session, taking approximately 2 hours
It involves a short hospital stay (usually, less than 24 hours)
It entails a hospital release free from urinary catheterization
It allows a faster recovery of the patient
In patients in a more advanced stage of prostate carcinoma and when combined with external radiotherapy or hormonotherapy, this type of treatment promotes a higher effectiveness rate
It causes a lower number of cases of urinary incontinence
It generates a lower number of erectile dysfunction conditions
It allows for a lower general mortality rate of the disease
Doctors who perform this medical procedure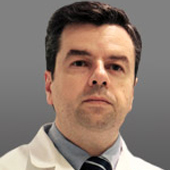 Radiotherapist and Clinical Director of CRP
Clinical Director of CRP since 2012. Degree in Medicine by the Institute of Biomedical Sciences Abel Salazar in Porto and a member of the Portuguese Medical Board since 1992.
Specialist in Radiotherapy by the Portuguese Oncology Institute since 1999.
Author of several publications in the area of Radiotherapy and participant in clinical trials in Portugal and in Europe.