‹ BACK
Partial or Total Shoulder Replacement
Shoulder replacement is surgery to replace the bones of the shoulder joint with artificial joint parts
You will receive anesthesia before this surgery. Two types of anesthesia can be used:
General anesthesia, which means you will be unconscious and unable to feel pain.
Regional anesthesia to numb your arm and shoulder area so that you do not feel any pain in this area. If you receive regional anesthesia, you will also be given medicine to help you relax during the operation.
The shoulder is a ball and socket joint. The round end of the arm bone fits into the opening at the end of the shoulder blade, called the socket. This type of joint allows you to move your arm in most directions.
For total shoulder replacement surgery, the round end of your arm bone will be replaced with an artificial stem that has a rounded metal head. The socket part (glenoid) of your shoulder blade will be replaced with a smooth plastic shell (lining) that will be held in place with a special cement. If only 1 of these 2 bones needs to be replaced, the surgery is called a partial shoulder replacement, or a hemiarthroplasty.
For shoulder joint replacement, your surgeon will make an incision (cut) over your shoulder joint to open up the area. Then your surgeon will:
Remove the head (top) of your upper arm bone (humerus)
Cement the new metal head and stem into place
Smooth the surface of the old socket and cement the new one in place
Close your incision with staples or sutures
Place a dressing (bandage) over your wound
Your surgeon may place a tube in this area to drain fluid that may build up in the joint. The drain will be removed when you no longer need it.
This surgery usually takes 1 - 3 hours.
If you would like to learn more information about Shoulder Replacement Surgery in Portugal, contact us through email, by calling +351 220 973 751, +351 211 379 718, +351 911 046 197, or by filling out our form. You can also contact us through our free call service to your right.
Why the Procedure is Performed
Shoulder replacement surgery is usually done when you have severe pain in the shoulder area, which limits your ability to move your arm. Causes of shoulder pain include:
Osteoarthritis
Poor result from a previous shoulder surgery
Rheumatoid arthritis
Badly broken bone in the arm near the shoulder
Badly damaged or torn tissues in the shoulder
Tumor in or around the shoulder
Your doctor may not recommend this surgery if you have:
History of infection, which can spread to the replaced joint
Severe mental dysfunction
Unhealthy skin around the shoulder area
Very weak (rotator cuff) muscles around the shoulder that cannot be fixed during surgery
Tell your doctor or nurse what medicines you are taking. This includes medicines, supplements, or herbs you bought without a prescription.
During the 2 weeks before your surgery:
Two weeks before surgery you may be asked to stop taking medicines that make it harder for your blood to clot. These include aspirin, ibuprofen (Advil, Motrin), naproxen (Naprosyn, Aleve).
Ask your doctor which medicines you should still take on the day of your surgery.
If you have diabetes, heart disease, or other medical conditions, your surgeon will ask you to see your doctor who treats you for these conditions.
Tell your doctor if you have been drinking a lot of alcohol, more than 1 or 2 drinks a day.
If you smoke, try to stop. Ask your doctor or nurse for help. Smoking can slow down wound and bone healing.
Let your doctor know right away if you get a cold, flu, fever, herpes breakout, or other illness before your surgery.
On the day of your surgery:
You will likely be asked not to drink or eat anything for 6 - 12 hours before the procedure.
Take the medicines your doctor told you to take with a small sip of water.
Your doctor or nurse will tell you when to arrive at the hospital. Be sure to arrive on time.
You may stay in the hospital for 1 - 3 days after your surgery.
While there, you may receive physical therapy to help keep the muscles around your shoulder from getting stiff.
Before you go home, the physical therapist will teach you how to move your arm around by using your other (good) arm to help.
Your arm will need to be in a sling for 2 - 6 weeks with no active movement and 3 months before strengthening. It will be around 4 - 6 months of recovery.
Follow any instructions you are given about how to care for your shoulder at home. This includes activities that you should not do.
You will be given instructions on shoulder exercises to do at home. Follow these instructions exactly. Doing the exercises in a wrong way can injure your new shoulder.
Shoulder replacement surgery relieves pain and stiffness for most people. You should be able to resume your normal daily activities without much problem. Many people are able to return to sports such as golf, swimming, gardening, bowling, and others.
Your new shoulder joint will last longer if less stress is placed on it. With normal use, a new shoulder joint can last for at least 10 years.
Total shoulder arthroplasty; Endoprosthetic shoulder replacement; Partial shoulder replacement; Partial shoulder arthroplasty; Replacement - shoulder; Arthroplasty - shoulder
Doctors who perform this medical procedure
Prof. Dr. João Espregueira-Mendes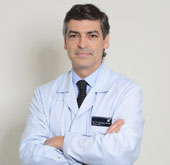 Orthopedist e Chairman of Clínica Espregueira Mendes
Graduated in Medicine in 1985 from Faculdade de Medicina da Universidade do Porto. In January 1994, he obtained the degree in Orthopedics and Traumatology with the final grade of 20,0 points – the highest grade possible. Since then, he is Specialist in Orthopedics and Traumatology by the Portuguese Medical Board.
In 1995, applied for the role of Hospital Assistant of Orthopedics and Traumatology of Hospital de São João, being accepted in first place with 20,0 points.  In July 20th of 1995, received his PHD in Orthopedics and Traumatology from Faculdade de Medicina do Porto, being approved with unanimity, distinction and honors. His PHD thesis has the title: "Chronic Injuries of the Anterior Cruciate Ligament (ACL)".
In October 1998, applied for the Direction of the Orthopedics and Traumatology service of Hospital São Sebastião and was nominated Director. Created from scratch the Orthopedics Service, part of a new management model of public hospitals with each director being responsible for an annual contract-program. In February 22nd of 2002, received the degree of Orthopedics Consultant of the Hospital Medical Career. From 2004 to 2008 he was the President of the Portuguese Society of Arthroscopy and Traumatology. In November 2005, was hired by Escola de Ciências da Saúde da Universidade do Minho has a guest associate professor, responsible for the area of Orthopedics and Traumatology.
In November 2005, he became the Director of Clínica Saúde Atlântica – Clínica do Dragão. He is the Chairman of Clínica Espregueira - FIFA Medical Centre of Excellence - ESSKA and ISAKOS official center. President of the European Society of Knee Surgery, Sports Trauma and Arthroscopy (ESSKA) from 2012 to 2014.
Languages: Portuguese and English.