‹ BACK
Oncology
Cancer treatments, second opinions and diagnosis by prominent cancer specialists

Medical Port partnered with the most recognized cancer treatment clinics and private hospitals to provide you with
 known oncology experts and state-of-the-art facilities.
Facing cancer – or the possibility of having it - is one of the hardest struggles a person can deal with in life. Make sure that you have all the right elements to increase the likelihood of success: a high quality medical team, supportive and sensitive staff and high-tech facilities at affordable costs in a location with sunny, warm weather - where the majority of population speaks English.
According to the World Health Organization, the earlier a cancer is detected, the more chances you have to overcome it. Whether you need a second opinion, a diagnosis confirmation or full cancer treatment, don't waste any more time.
If you would like to know more about Cancer Screening, Diagnosis, Second Opinions or Oncology Treatments, contact us through email, phone by calling +351 220 973 751, +351 211 379 718, +351 911 046 197, or by filling in this form. You can also contact us through our free call service to your right.
WATCH THE VIDEO OF OUR CUSTOMER:
Cancer Detection: Cancer Screening
Cancer screening involves a medical consultation and a series of health exams, blood tests and clinical analysis, with the goal to detect whether or not a person has cancer. The exams can be run before the person shows any symptoms.
Common reasons to run a cancer screening include: having cancer history in the family, leading a stressful life, obtaining non-standard blood test results or finding an abnormal tissue or mass.
If you were advised to run a cancer screening, don't jeopardize your health – book your tests as soon as possible. When cancer is found early, it can be easier to cure or treat. Tackling cancer at a later stage may reduce the prospects of success, and involve more time, costs and mental strength.
As cancer screening tests can be done when there are no visible symptoms, it is important to keep in mind that even if you were advised to run a cancer screen, it may not mean that you have indeed cancer.
Screening Tests
There are different cancer screening tests and some can carry risks. Screening tests can include:
Physical exam and health history
Clinical analysis and laboratory tests
Imaging procedures
Genetic tests 
To book an oncology medical consultation or to clarify any questions you may have, please contact us via info@medicalport.org or click here so we can call you for free.
Intraoperative Radiotherapy (IORT)
A cancer diagnosis may be daunting. Choosing the proper treatment even more so. Second opinions are critical when dealing with cancer – it is as important to confirm the diagnosis as it is ensuring that you receive the right treatment.
As there is a rapid innovation pace in oncology treatments, and since cancer treatments should be fully customized based on your specificities and health status, it is vital to seek the opinion of an expert on your type of cancer. Errors in both diagnosis and type of treatment prescribed are not rare, and can have a deterrent impact in overcoming cancer. A second opinion may drastically reduce this and increase the prospects of success. Confirming a cancer diagnosis with more than one health specialist is a common routine and you may feel more confident in your future health care decisions.
Second opinions typically provide you a diagnosis confirmation, details on the cancer type and stage, an outlook from the different experts involved in oncology treatments, possible treatment options and advice on what type of cancer treatment you should take.
Ensure that you have the right diagnostic and access to the most appropriate cancer treatment. Call us for free to discuss the next steps.
Medical Port provides a personalized, full booking service, and only works with the most prominent health clinics and internationally renowned oncology practitioners in Portugal. Our team of experts will book your medical appointment based on your availability, needs and preferences. We also take care of all the paperwork involved, so you can focus on what's important – taking care of you.
Our philosophy is that each and every client is unique. We are also aware that health is a sensitive topic. That is why you can opt to have a Customer Care Concierge, who can be on your side throughout the process (including door-to-door service).
Don't waste time in bureaucratic processes – with Medical Port, all you need is to show up for your consultation, with the assurance that everything else has been taken care of.
Make sure that you have the best conditions to succeed and increase the likelihood of a better health – start fighting cancer now with Medical Port.
Doctors who perform this medical procedure
Prof. Dr. Nuno Figueiredo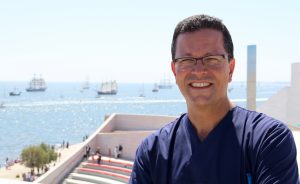 Unit Coordinator of General Surgery at Hospital Lusíadas Lisboa
Prof. Nuno Figueiredo was the Head of the Champalimaud Surgical Center and he is cuurently the Unit Coordinator of General Surgery at Hospital Lusíadas Lisboa. He is an internationally renowned colorectal surgeon and a certified robotic surgeon. In 2013 Prof. Figueiredo won the Pfizer Award for Fundamental Research.